Hi All,
Just wanted to wish everyone a very happy holiday season and provide an update as well.
This week we released Doctor S. Meets Ms. ASS. This movie runs 23:00 minutes long and starts out with a really sexy sequence of exhibitionistic proportion. Via the Doctors orders we are treated to the range of daring exhibitionism, close-ups, and happy dancing and sexy endings to boot. We expect that this exciting release will warm your hearth.
We will follow up this release with a Photo Set from the shoot of, as always, high resolution professional images. A key word here is close-ups:) Maybe we will include a couple random images to help ring in the new year.
Speaking of the new year, we are on track to offer the Visa payment option sometime in January. Again, your continued support has been greatly appreciated during our softer opening months this year.
Our list of movies and photo sets keeps growing with plenty of awesome material on tap. Mirror Mirror is the next movie on our line up set for early January. It is an erotic montage and story that features the solo Jackie Stevens coming to terms with her big beautiful bottom as she tries on various articles of clothing as they pertain to her butt. As a voyeur you will bare witness to her blossoming exhibitionistic tendencies to show it off and naked private moments narrated by self dialogue in front of the mirror and playful moments around her private quarters.
On tap we shot '67 Shades of Grey' which is loosely based on the popular book  '50 Shades of Grey's. In 67 shades a young, timid student is given the assignment to interview the business titan Mr. Grey. Upon their introduction Mr. Grey takes a very personal liking to the young sexy 'J'. Jackie Stevens portrays a very shy woman whom is eager to be told what to do and explore deep recesses of her sexuality for the very first time. Combining the introduction of dominance and submission through the ambiguity of the initial interview, Mr. Grey begins to explore intimate possibilities that might lay in store with the young willing student. He asks her to unveil her skirt, and is graced by her beautiful privates parts, garnished by stockings and garters. She reveals to him a hidden, slightly daring side. Eventually Mr. Grey also gives 'J' a introduction to light bondage.
Still under consideration to be scheduled around the release of 67 shades is an older movie entitled Who's the Boss, which fits the motif of 67 Shades of Grey.
---
If you have not already signed up for membership please consider doing so. Your support is greatly appreciated by Moneta Productions and ofcourse Jackie Stevens.
A note from Joey S. There is a ton of free porn out there but I feel that the pool of quality adult material might start to thin as this trend continues. For better or worse it is certainly watered down. Either way our focus on creating unique erotica with good production quality in HD is a challenging pursuit. I hope to continue and improve on this trajectory. Also, there is the intention to branch out the scenarios, creative productions, characters and possibly actors in the future. If you can appreciate what we are striving for, we thrive with your support. It means a lot. I could certainly argue that the cost of monthly membership is the price of an average lunch out for one person, but then again we all do have to eat. Cheers!
SOMETHING TO LOOK FORWARD TO: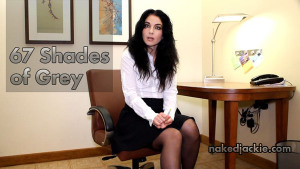 http://nakedjackie.com/wp-content/uploads/2014/07/logop.jpg
0
0
Joey
http://nakedjackie.com/wp-content/uploads/2014/07/logop.jpg
Joey
2014-12-13 16:55:23
2014-12-13 22:39:59
Happy 'Naked' Holidays