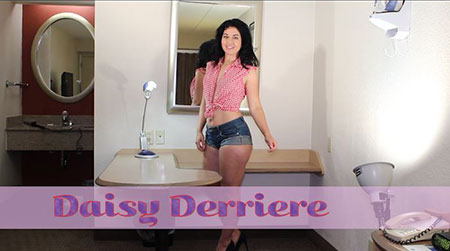 Jackie Stevens' Wild Cat III for November.
Happy Halloween all of you Jackie Stevens fan's out there. I can assure you that Jackie had a lot of fun dressing up and putting on a sexy southern accent in the recently released Daisy Derriere part 1 & 2. We also added a bonus clip of Jackie Oiling up with some sweet smelling baby oil for a little added Halloween bonus. This being an outtake from a yet to be released movie called Dirty Babysitter - Call Me Master!
We hope that among all of the tight ass and pussy close ups, hot shaking booty angles, sexy hard nipple scenes and all of the other amazing scenery that you are enjoying Jackie's sexy narration. She narrates such awesome origional erotic stories that it is certain to send one way over the edge! She talks with great detail and zeal about seduction and the very dirty things she so longs to perform, like no one else can. Anyhow I digress. We hope that you are ready for Wild Cat III. Shot in the heat of mid-summer Wild Cat explores her new home and surrounds completely nude. She roams through her wooded territory naked, bending over and squatting as she explores. Then she shows off her amazing new woods home. We are certain you might agree that this new home is one of a kind. Of course she proceeds to do what a pretty kitty does in the comfort of her new home. Why show off that is!
As usually we have some tantalizing things on deck. We did a pantyhose shoot recently under the guise of "Aunty Jackie" who has a penchant for JOI or better yet Jerk Off Encouragement.  Also, Mom Milf III - Hot Hot Hot. All in various stages of post production.
Well as we move past our first full year of offering Naked Jackie we have to give yet another big shout out to our supporters. All of you VIP Members who have stuck in there, we are so grateful. Moreover we could not do this without you. The landscape of Adult entertainment is as challenging as ever so spread the word out there about how original and amazing Jackie is. I have yet to see anything remotely like her, period. We think you'll agree.
Cheers, JC. -
PS. here is another bonus shot for all of you....How does Jackie workout? Why bottomless of course!
http://nakedjackie.com/wp-content/uploads/2015/10/daisy_poster_1.jpg
251
450
Joey
http://nakedjackie.com/wp-content/uploads/2014/07/logop.jpg
Joey
2015-10-31 14:17:54
2015-11-05 23:20:01
Halloween 2015 Update