http://nakedjackie.com/wp-content/uploads/2014/07/logop.jpg
0
0
Joey
http://nakedjackie.com/wp-content/uploads/2014/07/logop.jpg
Joey
2016-03-22 13:55:01
2016-03-30 13:04:57
Assersize
March has been a month of madness! We have offered incredible promotions for our returning customers. In fact for special deals through the end of the month email us at Support@NakedJackie.com.
We just released Aunt Jackie 3 - The Pantyhose. In the effort to try to bump it up a notch we related this one a bit earlier than normal. Typically we try to do a feature on the 15th of the month and then another update on the last day of the month. This month we will be doing 2 more updates in addition to Aunt Jackie 3 which runs over 13 minutes. Below is our description of Aunt Jackie 3:
One of Aunt Jackie's young neighbors, who is just starting college visits Auntie in the early morning hours. In fact she does not have any makeup on yet and has just put on a pair of pantyhose to start her work day. She decides to indulge the school boy fantasy of seeing this much older sultry woman show off her giant bottom in her pantyhose. He asks to watch her, un-dress and continue to show off her giant bottom and hose as his young cock grows ever larger. Before they know it the two parties are aiding and abetting and a hot session of mutual masturbation as auntie encourages and instructs her subject to stroke it ever more for her while he enjoys beholder her amazing hot, juicy milf pussy. Aunt Jackie spreads and rubs her beautiful pussy for her admirer.
We will also be offering a large photo update in the vein of next months feature Assersize! Lastly we are working on some special requests in respect to having jackie rub (splosh) various food products and oil all over her lovely nipples. We will focus on a nipple centric update and an ass splashing update. Either together or separate. Not sure on that one yet. Lastly we have already filmed Dirty Sitter 3 - Snow Bound. This edition of Dirty Sitter features jackie in a very hot live phone sex session and as things heat up she learns she will get an unexpected visit from her phone friend!
As we head into spring we are contemplating a series called Nurse Jackie as well as a feature for Roller Girl. We always look forward to your feedback.
We really cannot thank everyone enough who has supported the site and kept us going. We hope to keep bumping it up a notch for the better part of 2016 and onward.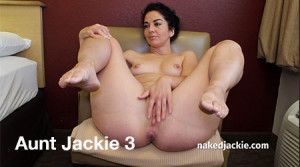 http://nakedjackie.com/wp-content/uploads/2014/07/logop.jpg
0
0
Joey
http://nakedjackie.com/wp-content/uploads/2014/07/logop.jpg
Joey
2016-03-12 23:10:38
2016-03-22 13:43:00
March Madness