Jackie Stevens as "the Baby Sitter" agrees to play a fun game and take orders from her "Master"!
On January 15 we will release Dirty Baby Sitter 3 - part 1.  Jackie gives great dialogue, so we decided to keep it Jackie-centric. She describes, with great zeal, the orders that she is given as she has easily given in to her master. How awesome, she gets her full babysitter rate just to show off her inanely round rump and describe how she so willingly loves to please her masters every whim. It seams as though there is nothing she would not do for him.
We will release Part 2 of Dirty Baby Sitter 3 on January 31. BabySitter is ordered to rub baby oil all over her body and she describes her adventures and fantasies about the local nudist beach among other things. We will also put out a photo set around the end of the month or early February just to keep things flowing.
February will feature a new twist as we introduce 'Auntie Jackie' and her sweet seductive ways as she shows off her pantyhose, stockings and garters. This fun taboo story is sure to make your heart beat right out of site.
As always the continued support has been greatly appreciated. We are cutting it close still but it is our hope to continue on course with a new feature each month. Thank you. If you have any questions about support or access please email us anytime at support@nakedjackie.com. Cheers Jackie!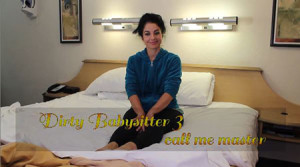 http://nakedjackie.com/wp-content/uploads/2014/07/logop.jpg
0
0
Joey
http://nakedjackie.com/wp-content/uploads/2014/07/logop.jpg
Joey
2016-01-14 06:37:14
2016-03-04 02:41:19
Babysitter is in the House