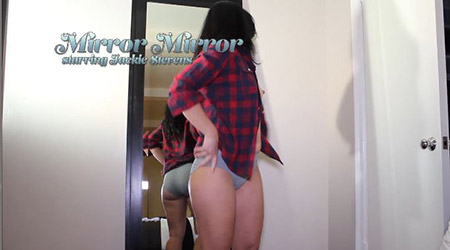 Update: Mirror Mirror staring Jackie Stevens just Released on VIP Members section!
Jackie Stevens stars in Mirror Mirror with a solo performance. The video is set to be released on January 15th. We are committed to providing 2 updates a month for our VIP's. Both a major HD video release and then a Hi Resolution photo set or video short.
Mirror Mirror is a window into the world of a beautiful, big bottomed, curvy lady who is coming to terms with her giant butt. She is trying on various bottoms, realizing that they are very tight over her gorgeous, round rump and she slowly begins to embrace her ample backside. As this unfolds we are treated to a voyeurs paradise as we bare witness to her personal revelations and fantasies. She even speculates about showing off her bare butt to the general public or at work. Ultimately she is still a bit shy but does not hold back in her private quarters to let her personality out.
We are still trying to figure out what to release for the second half of January, either a video short or another Hi Resolution Photo Set so for now we will leave it a mystery.
We hope that you all are enjoying Decembers video Dr. S. Meets Ms. Ass along with the accompanying photo set ( which included a few extra miscellaneous photos thrown in, hints at possible future photo sets on tap). I have to say, the sequence of Jackie going bottomless to her Dr's appointment is out of this world.
Coming up in February we will be releasing '67 Shades of Grey' which might inspire more bondage and discipline themes. A very exciting year is shaping up indeed!
Below is a small outtake that we released from the upcoming Mirror Mirror. Although we might release some small segments from past videos, I believe that there is plenty of wonderful samples of Jackie's amazing talent and assets, so our newer releases will most likely be kempt a bit more under wraps...after all our VIP's deserve the best!
http://nakedjackie.com/wp-content/uploads/2015/01/mm_post.jpg
250
450
Joey
http://nakedjackie.com/wp-content/uploads/2014/07/logop.jpg
Joey
2015-01-07 14:17:31
2015-01-15 07:34:57
Mirror Mirror on the Wall